Grade 4 Essentials for GCSE Maths
Grade 4 Essentials for GCSE Maths
Do you want to know
what you need to know
to pass GCSE Maths or Edexcel IGCSE Maths?
You're in the right place!

Grade 4 Essentials for GCSE Maths will boost your confidence and understanding, and leave you feeling ready for just about anything that the Foundation GCSE can throw at you!
It's ideal for home educators, adult learners, and anyone else who feels they would benefit from a bit of top-quality support to give them the best possible chance of that magic Grade 4.
It covers all the topics you need to be comfortable with, in order to be confident of getting a secure Grade 4 – possibly even a Grade 5 – in GCSE Maths. It's also suitable for anyone doing the Edexcel International GCSE (IGCSE), since there's very little difference between the two qualifications at Foundation level. (Where there are differences, these are highlighted.)
The main course is divided into four modules:
– and is incredible value for money at just £9.99 per module.
For those who are aiming for a Grade 5, or who are doing Higher and want to make sure that they have a firm grasp of all the Foundation content, I've also included an extension module covering the few top-end topics – those at Foundation/Higher crossover level – that aren't covered in the main course: ratio and algebra, 3 items with 2 ratios; compound percentage change; SOHCAHTOA (sine, cosine and tangent); and some graph skills that are on Foundation for IGCSE but only on Higher for GCSE.
There's no obligation to do all the modules – you're welcome to just do the ones that you think will be of most benefit to you personally – though of course if you want full coverage then you'll need them all.
Here's what you get:
Over 25 hours of high-quality video lessons

covering all the skills you need for a Grade 4/5 in GCSE or Edexcel IGCSE Maths

Qualified teacher with over 15 years' experience

Lots of practice opportunities built in
Supporting handouts that you can print out
More than 40

quizzes

(over 400 questions in total!) for you to check how much you've remembered and understood
A

completion certificate

for each module
Links to free online resources that you can use for additional practice

No-quibble money-back guarantee

A free Facebook group where you can get help if there's anything you're still struggling with.
Take a look at the Number & Ratio Module for a FREE preview of over an hour's worth of lessons.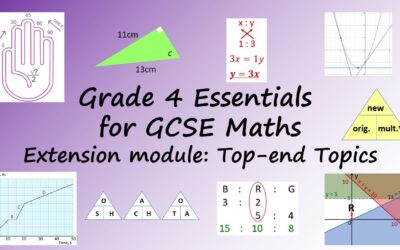 This is a supplementary module to the Grade 4 Essentials for GCSE Maths suite of courses. It fills in the few remaining gaps at...